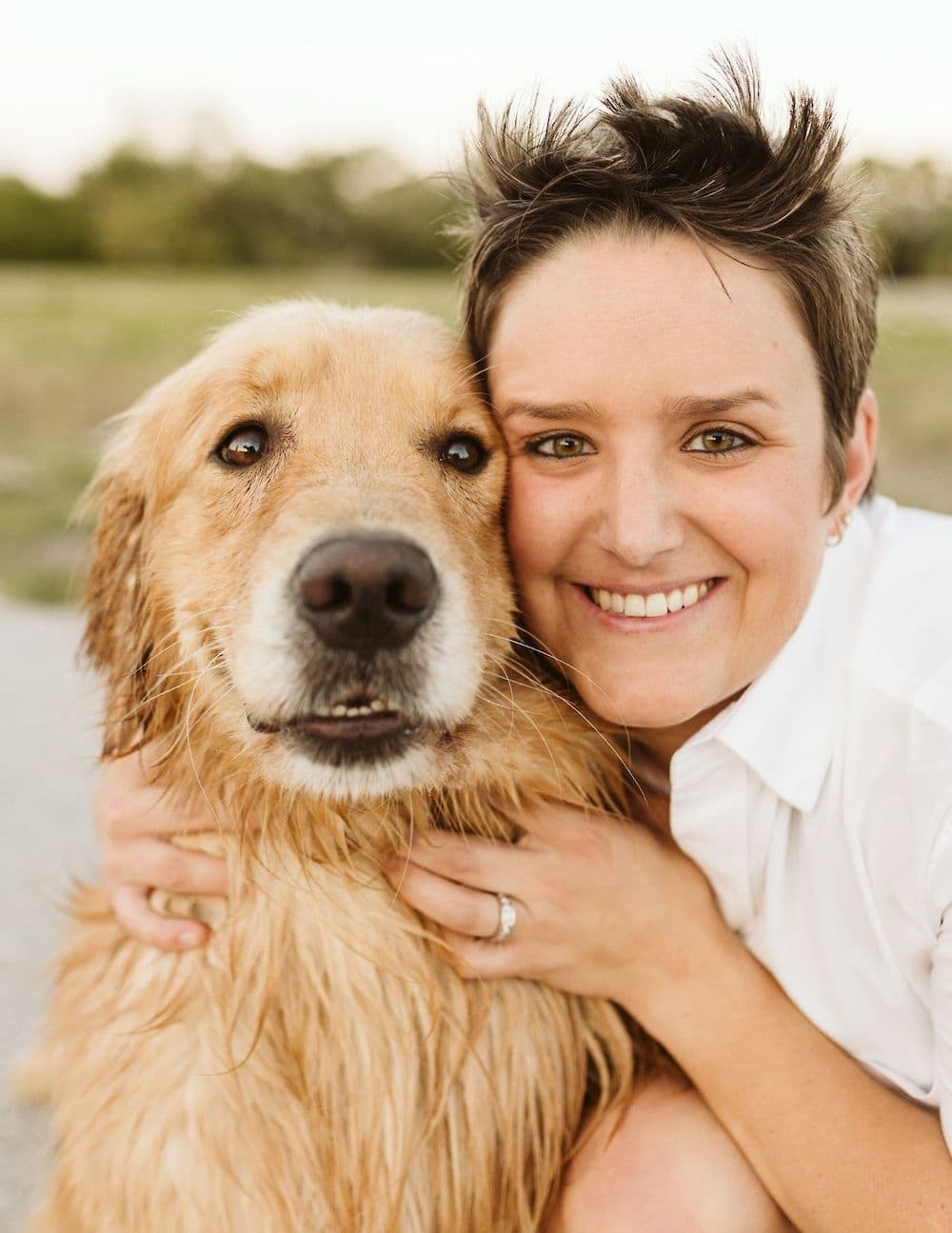 Jen
In June 2021, Jen assumed ownership of Eagleridge Golden Retrievers, fueled by her lifelong love for these dogs. Her journey with Golden Retrievers began at the age of 12, and she hails from Utica, NY. After earning an undergraduate degree in Biology from Utica University, Jen pursued a Doctorate in Physical Therapy in 2013, working as a Physical Therapist and Multisite Manager for 8 years.
Jen, a Golden Lover, met her wife Meghan in 2011, and they relocated to Florida in 2014, building their first home in 2015. Their exploration of Golden Retriever Breeders in Florida led to the acquisition of their first Golden Retriever, Kaiya, from the previous Eagleridge owner, Dennis Williams, in 2016. Jen and Meghan tied the knot on Siesta Key Beach in 2017, and Jen became a cobreeder of Eagleridge in 2019. Following their Fertility Journey, they are now proud parents to sons Mason (3) and Elliot (18 months), with another son expected in January 2024.
In her leisure time, Jen relishes moments with family and friends, engages in woodworking, and undertakes home improvement projects. With a deep passion for Golden Retrievers, Jen is committed to enhancing the breed. Her incorporation of DNA testing into the breeding program, coupled with her Genetics background, enables the precise selection of breeding pairs, ensuring the birth of healthy puppies.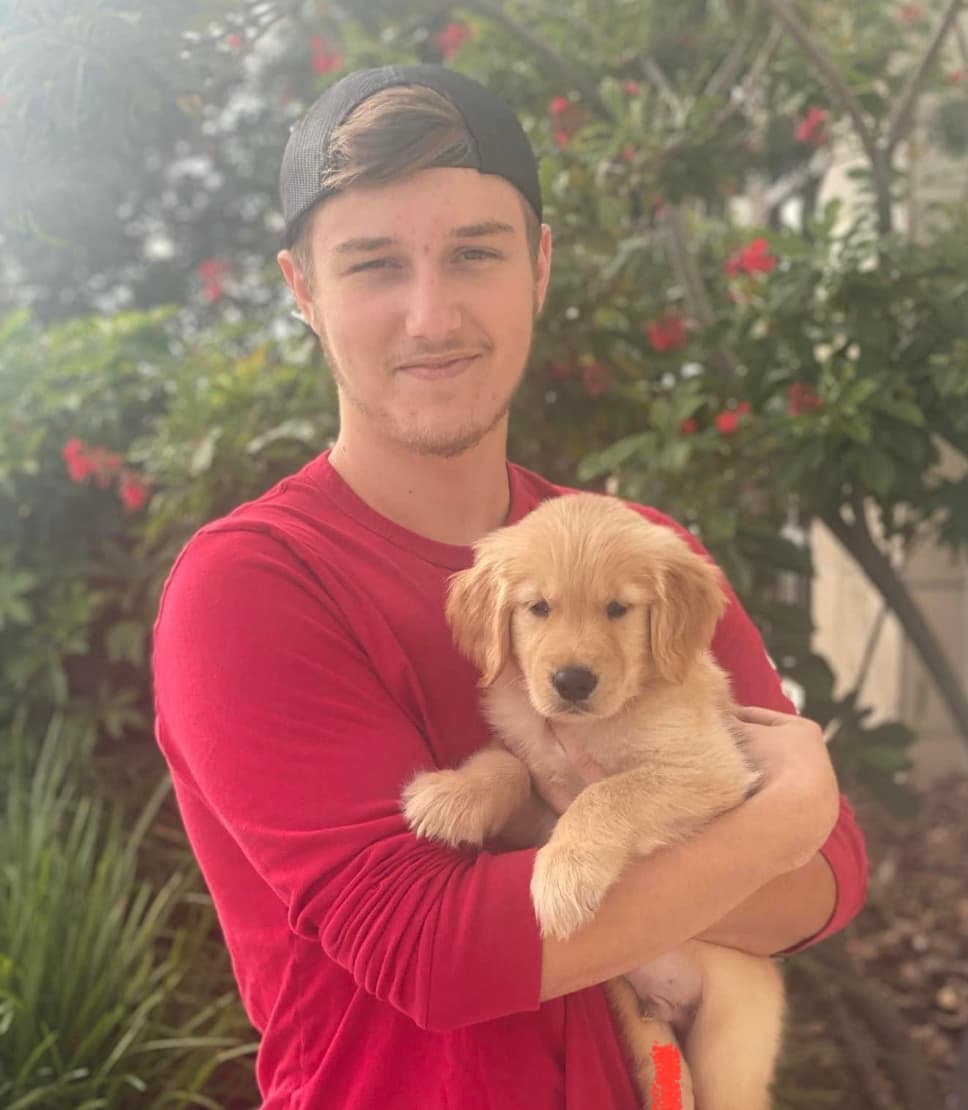 Tanner
Tanner became a valued member of the Eagleridge Team in September 2021, taking on the roles of head trainer and boarding manager. His connection with Eagleridge started when he and his family welcomed their first Golden, Gypsy, from Eagleridge in 2017. Adding to their furry family, Loki, another Eagleridge Golden, joined them in 2020.
Driven by a newfound passion for training, Tanner relocated from Coral Springs to Lakeland to pursue a career as a trainer at Eagleridge. Early in his training journey, he acquired his very own Golden, Maverick, who is the offspring of his family pets, Gypsy and Loki.
Tanner takes pleasure in personally meeting with new puppy owners, showcasing their pups' training skills, and providing guidance on the right commands and essential aspects of nurturing the perfect companion. Currently on the path to becoming a certified dog trainer, Tanner is slated to graduate in 2024.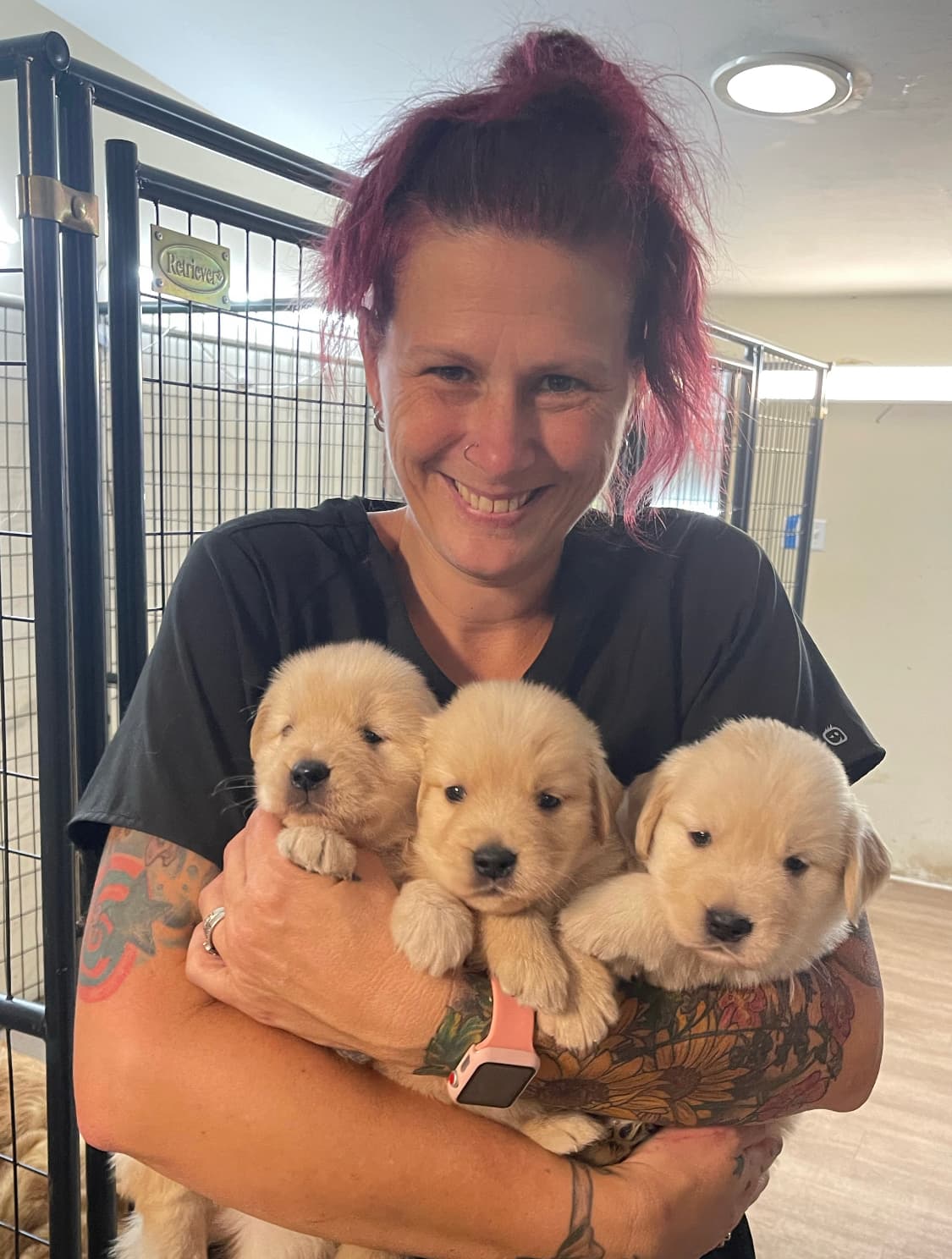 Stephanie
Stephanie became a Care Attendant for our adult males and females at Eagleridge in August 2022, relishing the daily opportunity to spend time with and care for our affectionate Golden Retrievers. With a rich background of working and living on various farms, she has nurtured horses, goats, dogs, cats, and chickens throughout her life. Despite holding a degree in massage therapy, Stephanie opted for a different life direction, one centered around working with animals.
A dedicated wife and mother of two, with a 24-year-old daughter and a 19-year-old son, Stephanie extends her love for animals to her home, where she cares for two rescues - a Rottweiler and a Pitbull. Recently, she welcomed her first Eagleridge Puppy, Duckie, into the family. Stephanie also tends to two goats and 11 chickens.
Outside of her Eagleridge responsibilities, Stephanie is in the process of launching her own business, crafting and selling freeze-dried candies and dog treats. She revels in outdoor activities, whether it's working in the garden or playing with the animals. Additionally, Stephanie enjoys expressing her culinary skills by cooking and baking for her friends, family, and pets.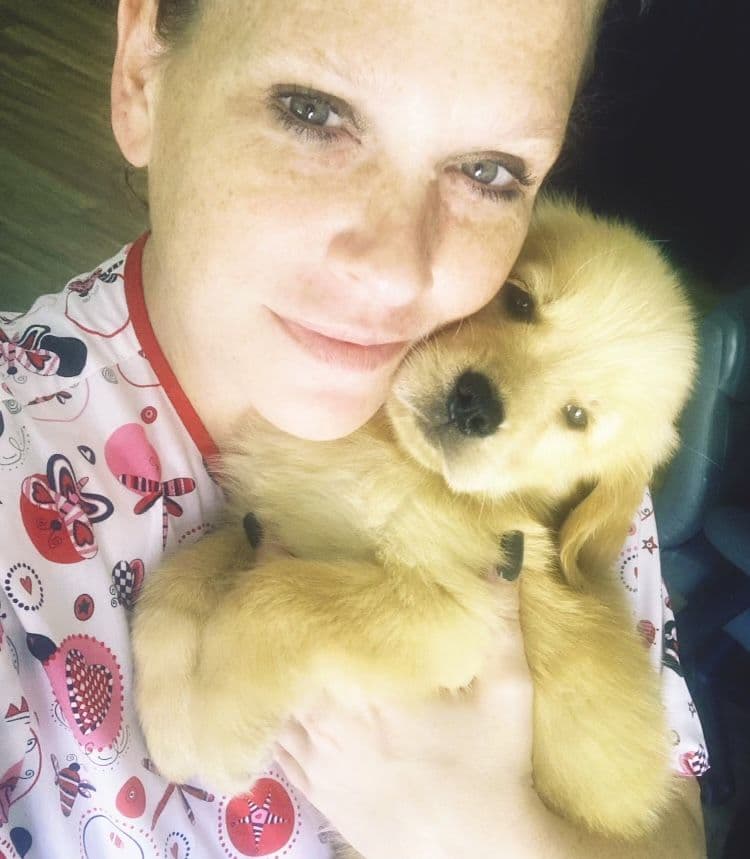 Jacqui
For the past four years, Jacqui has served as our night shift manager at Eagleridge. Before joining our team, she worked as a medical assistant. With two boys, aged 9 and 15, Jacqui finds joy in spending her free time hiking and camping.
During her tenure, Jacqui developed a special bond with one of our mamas, India. When India retired, Jacqui decided to provide her fur-ever home. Shortly after, she adopted an 8-week-old Eagleridge puppy named Nova. Jacqui aspires to become a co-breeder in the future.
Jacqui expresses that the highlight of her work at Eagleridge is witnessing the dogs' sheer happiness when they greet her each day. Caring for them, she says, has been one of the most fulfilling experiences in her entire life.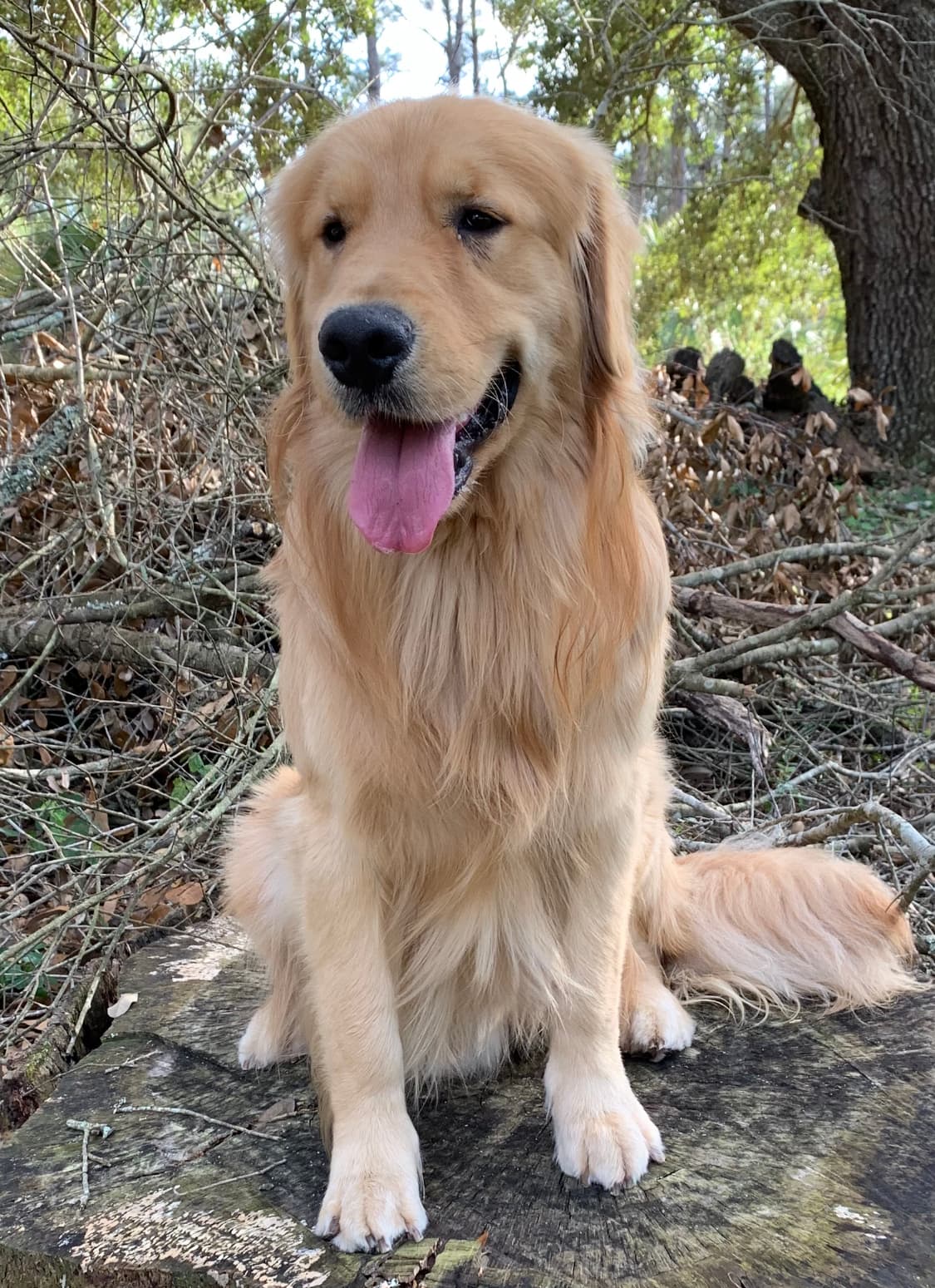 Maverick
Meet Maverick, Eagleridge's Official Greeter! Born in September 2021, Maverick, owned by our trainer Tanner, will warmly welcome you with a Golden Smile as soon as you step out of your car. This charming pup has mastered various tricks, including waving, playing dead (bang!), and speaking on command. Maverick recently cleared all his OFA assessments and proudly serves as one of our studs!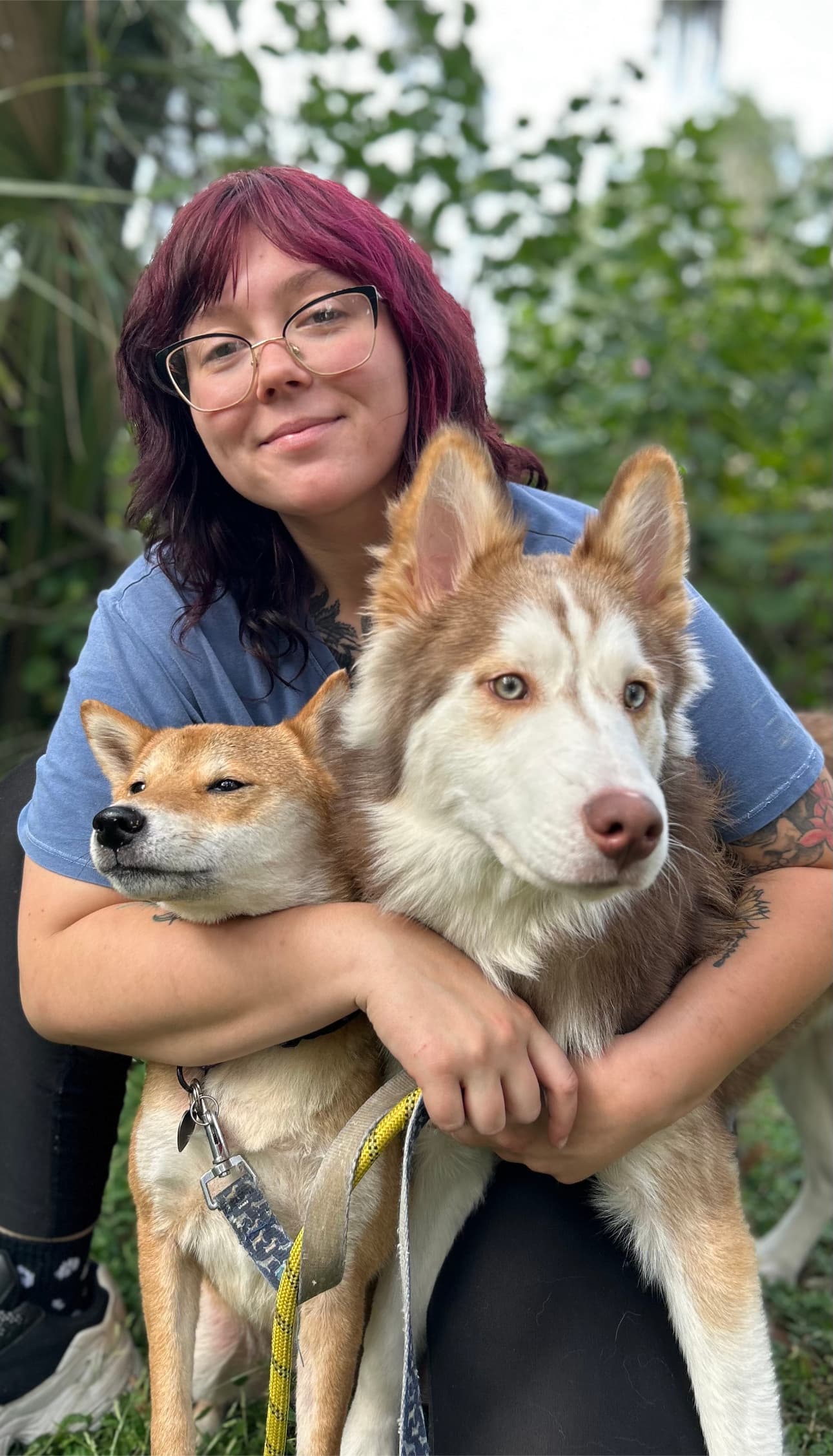 Nyla
Joining Eagleridge in May 2023, Nyla brings a lifelong passion for animals to her role. She takes delight in expanding her knowledge about the care and well-being of our Golden Retrievers. At home, she shares her space with two dogs—a Shiba Inu and a Husky—along with three feline companions. During her leisure hours, Nyla indulges in crocheting and crafting, often accompanied by Netflix entertainment.